Welcome to Camping Clairac
A real camping for real campers.
Yes it still exists... Close to nature, simpel and friendly ...with us at Clairac, you will find the necessary comfort : A clean toilet block, a custom service and a warm and friendly welcoming. Here the camper is called by his name and doesn't need to wear a plastic bracelet as an identification tag...
General
The sites of Camping Clairac are spacious, most of them are very shady and with electricity. Calm and quiet are guaranteed.
The toilet block is modern and clean with tiled toilets and showers, hot water, electricity, wash basins and handicapped toilet & shower.
As all kind of open fires and barbecues are forbidden in the Mediterranean we have constructed an authorized "barbecue site" for our campers.There is also a small playground for children.
Click here for a plan of the camping.
More »
Countryside Camping
A countryside camping is a camping situated in an agrucultural environment with maximum 25 sites on 2.5 acres of land.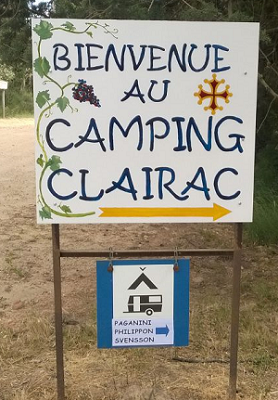 Cottage and Caravan to let
We also let a cottage and a caravan. For more information please contact us...